The MONDIAL database has been stimulated by the (1987) TERRA database and the SQL training of the Institut für Programmstrukturen und Datenorganisation der Universität Karlsruhe in the 1990s. Using the F-Logic system Florid, a new database has been generated in 1998 at Freiburg University, and since 2002 maintained at Göttingen University from geographical Web data sources listed below:
CIA World Factbook (mainly in 1998 and 2015),
"Global Statistics", a predecessor of "GeoHive" which has been collected by Johan van der Heyden, but went offline in 2016/2017 (regularly since 1998),
City population by Thomas Brinkhoff (2015 update),
at the beginning, additional textual sources for coordinates, and a real atlas.
and some geographical data of the 1987 TERRA database from the University of Karlsruhe's teaching.
The generation of the MONDIAL database in 1998 served as a case study for information extraction and integration (pre-XML):
The original data extraction and integration process using the F-Logic system FLORID is described here.
A main revision of Mondial has been done in summer 2009 (Mondial-II, using XQuery for integrating data from XHTML sources into XML with XML as target format). The data and main schema (XML, SQL, RDF) have been incrementally changed.
Another main revision of Mondial has been done during 2015 (Mondial-III). The data and main schema have again been incrementally changed:
Quelle: https://www.dbis.informatik.uni-goettingen.de/Mondial/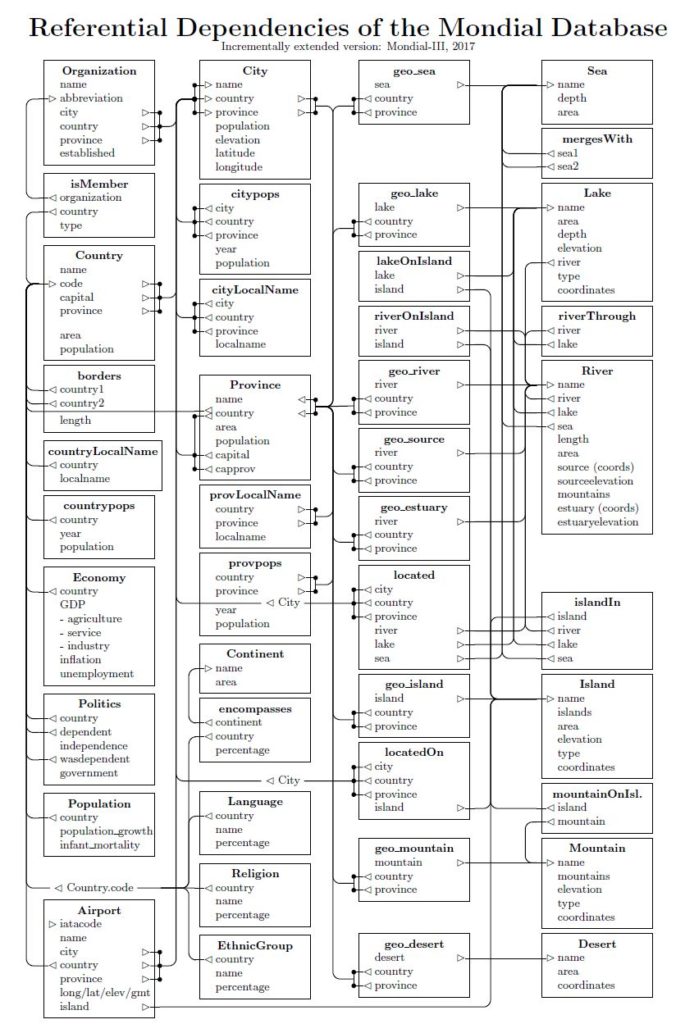 Quelle und Download als PDF: https://www.dbis.informatik.uni-goettingen.de/Mondial/mondial-abh.pdf
Quelle und Download als PDF: https://www.dbis.informatik.uni-goettingen.de/Mondial/mondial-ER.pdf